Our values
Housing Australia's people share a passion for our purpose to improve housing outcomes by helping more Australians to access affordable, safe and secure housing.
Our 'one-team' culture reflects our focus on achieving positive outcomes, and our deep-seated values: trust and integrity, respect and aiming for excellence in all that we do.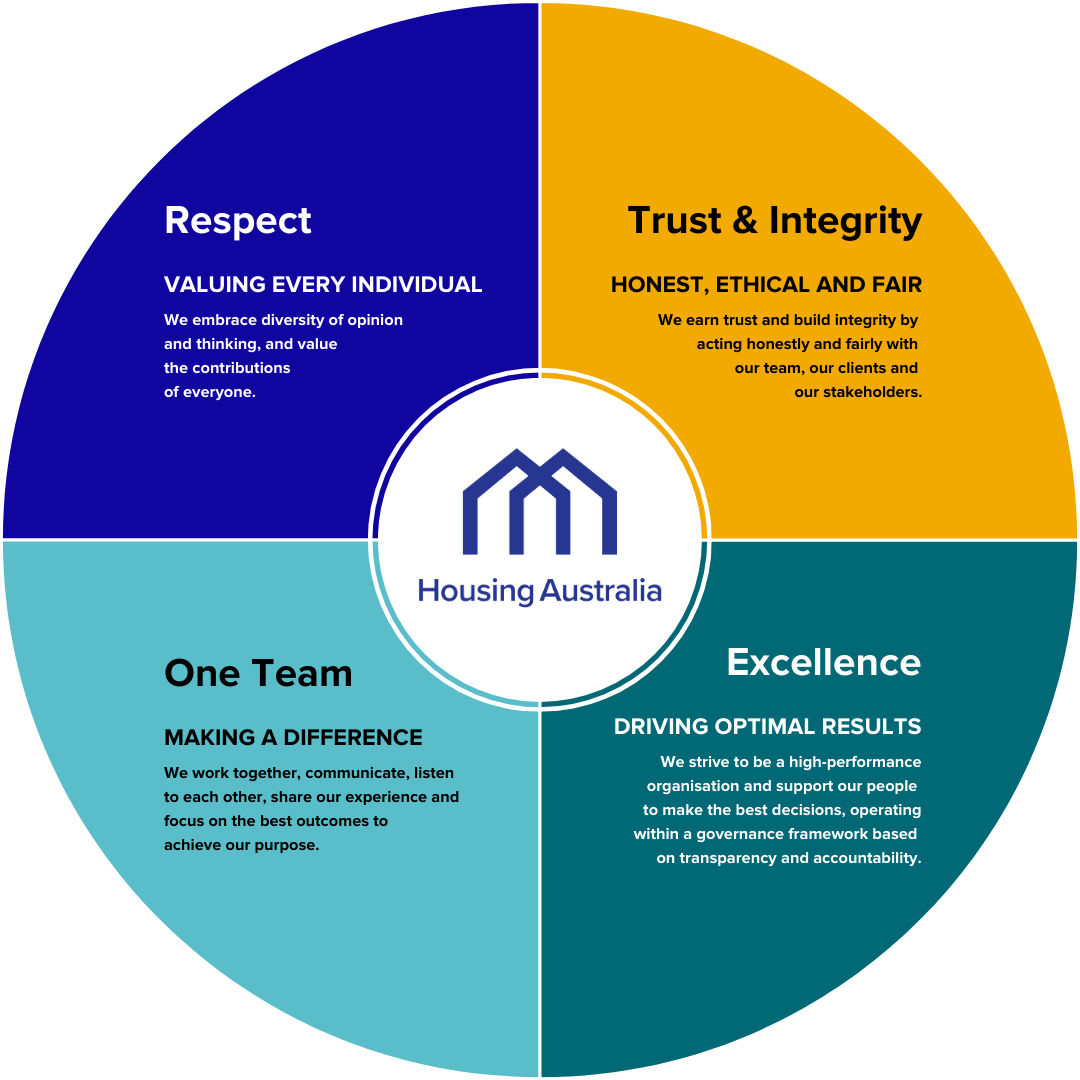 Our culture
Housing Australia is an agile, high-performance organisation, operating in a dynamic and complex environment. We have a highly engaged workforce who are committed to our purpose of improving housing outcomes for Australians.
Diversity and inclusion
We actively build and maintain a diverse team with the technical skills required to deliver our purpose. We value diverse experience, expertise and backgrounds to foster a strong organisation, deepen problem solving ability, innovation and success.
We foster a collaborative environment and provide equal opportunities in employment, remuneration, learning, and career development.
Learning and development
We are committed to growing the capability of our people by supporting their learning and development needs. We invest in building our team's technical learning capability through identifying skill gaps and providing additional training where required. We also encourage an open learning culture through monthly knowledge sharing sessions facilitated by various team members.
As part of Housing Australia's performance and development process, our people leaders agree on learning, development and career goals with their teams.
Work Health and Safety
Housing Australia takes a pragmatic, risk-based approach to maintaining its work health and safety compliance framework and management practices. Its strong culture of incident notification and investigation includes reporting any accidents or 'near misses'. Incidents and near misses are managed, with proactive measures put in place to reduce the potential risks identified.
Housing Australia provides its employees and Board members with regular training on the latest legislation, reporting mechanisms and obligations as part of its ongoing compliance program. New employees and consultants are provided with an in-depth induction program that includes a work health and safety overview with Export Finance Australia's Health and Safety Representative. Housing Australia's first aid officer also undergoes regular training.
We work closely with Export Finance Australia around work health and safety. Export Finance Australia's Health and Safety Representative conducts regular inspections of our workspace. We engage with our people on work health and safety matters, including the adequacy of facilities, and take steps to ensure a positive, productive and risk-free working environment.