Housing Australia's Chief Executive Officer (CEO) reports to the Housing Australia Board and is responsible for the day-to-day administration of the organisation. Housing Australia's Leadership team comprises the CEO and seven direct reports overseeing key business areas.
Housing Australia organisational chart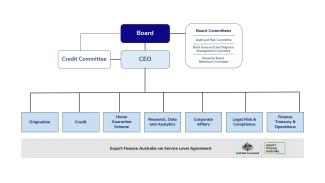 Leadership team members
Members

Nathan Dal Bon | Chief Executive Officer

Nathan has been Chief Executive Officer of Housing Australia since its inception in 2018. He has more than 25 years' experience in economic policy development and advising across government. In his previous role as a senior Commonwealth Treasury official, he led the team that worked extensively on the establishment of Housing Australia. As CEO, Nathan is focused on building an organisation that improves housing outcomes, particularly in affordable housing.

Prior to joining Housing Australia, Nathan held senior executive roles in the Commonwealth Treasury, and the departments of Industry, Innovation and Science; Foreign Affairs and Trade; and Prime Minister and Cabinet. He has served as a non-executive director of the Australian Housing and Urban Research Institute (AHURI).

In 2014, Nathan was Australia's representative to the United Nations for the Report of the Intergovernmental Committee of Experts on Sustainable Development Financing.

Nathan holds a Masters in Public Administration from Harvard University and a Bachelor of Economic (Hons) degree from the University of Newcastle.

Stuart Neilson | Chief Financial Officer and Chief Operating Officer

Stuart has over 40 years' experience in banking and finance, having started his career at the Reserve Bank of Australia.

Since then, Stuart has worked for a number of global investment banks, including eight years with Chase Manhattan Bank and JP Morgan Chase, where his roles included Chief Operating Officer and Chief Financial Officer. Prior to joining Housing Australia, Stuart was Chief Financial Officer and Chief Risk Officer for Export Finance Australia for 15 years.

Stuart holds a Bachelor of Business Studies majoring in accounting and economics from the University of Technology Sydney (Ku-ring-gai College of Advanced Education campus). He has also completed an advanced management program at the Wharton Business School in the United States. Stuart is a Fellow Certified Practicing Accountant and a Graduate of the Australia Institute of Company Directors.

Stuart has previously served on a number of Boards and currently sits on an advisory Board in the not-for-profit sector.

Rod Saville | General Counsel and Chief Risk Officer

As General Counsel and Chief Risk Officer, Rod leads the legal and compliance team at Housing Australia and provides legal advice and support to all areas of the business. As Board Secretary, Rod is responsible for ensuring the Board and its committees meet best practice governance and legislative requirements.

Rod has more than 30 years' experience as a commercial and financial services lawyer and has held general counsel and senior executive roles at a number of companies including NAB, ING, Westpac, Optus, CUA, PayPal and Travelex. Early in his career Rod worked with the Australian Government Solicitor in Canberra and Sydney.

Rod holds two degrees from the Australian National University in Law (Hons) and Arts (history and political science). Rod is a solicitor of the NSW Supreme Court, a Fellow of the Financial Services Institute of Australasia, a member of the Australian Institute of Company Directors and the Association of Corporate Counsel.

Rowena Johnston | Chief Credit Officer

Rowena is the Chief Credit Officer, responsible for Housing Australia's credit risk management and execution, including transaction assessments and approvals, the management of exposure and diversification levels, and the overall portfolio risk appetite and profile. Rowena also manages the Housing Australia Credit Assessment and Portfolio Management teams, is Chair of the Housing Australia Credit Committee and is a member of the Housing Australia Social Bond Working Group.

Rowena has over 20 years' experience in banking and finance, primarily in property and infrastructure. Prior to joining Housing Australia, Rowena worked with the Commonwealth Bank of Australia, St.George Institutional Bank, Macquarie Bank and ANZ.

Rowena holds two degrees from the University of New South Wales in economics, finance and organisational behaviour and management, as well as qualifications in psychology from the University of New England.

Jennifer Chew | Chief Program Officer, Home Ownership

Jennifer is the Chief Program Officer, Home Ownership. She has more than 25 years' experience, predominantly in retail banking including seven years across leadership roles at Westpac.

Her career at Westpac spanned product, remediation and risk management. She headed the bank's home loan portfolio management function and led the home loan business for St George Bank's Bank of Melbourne and Bank of South Australia.

Jennifer holds a Bachelor of Business (Major in Marketing and Law) from the University of Technology, Sydney.

Turi Condon | Chief Corporate Affairs Officer

Turi is the Chief Corporate Affairs Officer. Turi has more than 25 years of experience in media and corporate affairs. Before joining Housing Australia, Turi was The Australian newspaper's Property Editor and spent most of her career in journalism and senior editorial management roles for Australia's two largest national media groups, News Corp (The Australian) and Fairfax Media, now Nine (Australian Financial Review and BRW). Her earlier experience includes overseeing marketing and corporate affairs for a division of global financial services firm Schroders.

Turi holds a Bachelor of Arts from The University of Queensland.

Jon Ross | Chief Origination Director

Jon is the Chief Origination Director. He has been an originator with Housing Australia since 2019 and Chief Origination Director since July 2022.

Jon has more than 30 years' experience in institutional banking, primarily with Westpac Institutional Bank where he has held a variety of senior executive positions. Jon has built and managed specialised industry teams across public sector, health, finance, superannuation, asset management and social and affordable housing sectors.

Since joining Housing Australia Jon has led teams delivering the inaugural Victorian Housing Urban renewal PPP (Public Private Partnership) along with a range of significant financing transactions for leading Community Housing Providers in NSW and Victoria. He has worked as an integral part of the Housing Australia team helping structure, finance and deliver more than 16,000 properties over the past 4 years.

Jon holds a Bachelor of Law from the University of Otago (NZ) and a Master of Business Administration from Cranfield University (UK).

Hugh Hartigan | Head of Research, Data and Analytics

Hugh has nearly 20 years of public policy experience working in government, including seven years at the Australian Treasury and several years working as a senior advisor in the Australian Parliament before he joined Housing Australia in 2019.

Hugh's experience traverses a range of public policy issues including Commonwealth budgets, tax analysis and housing-related policy issues.

He has a Bachelor of Commerce, with honours in economics from Macquarie University.