Housing Australia is the independent national housing authority. We work with the private sector, community housing providers and all levels of Government to facilitate and deliver programs that help more Australians to access social and affordable housing or to buy a home.
Financing more social and affordable housing
Our expertise is bringing social and affordable housing projects to life by facilitating financing structures that provide project certainty for investors, governments and community housing providers.
The majority of our involvement is at the start of these housing projects – bringing community housing providers, investors, governments, developers and construction companies together to secure suitable funding for eligible projects and make more housing stock available. We then work with the project owner – typically community housing providers or State governments – to monitor timing, budget and project delivery so more Australians have more homes to live in.
Enabling a sustainable community housing sector
Through the finance we facilitate and the provision of capacity building grants, we strengthen the financial and management capabilities of the community housing sector, enabling the long term self- sustainability of these critical organisations.
Our programs also help establish the viability of social and affordable housing as an investment asset class.
Guarantees for supported home ownership
Housing Australia works with participating lenders to facilitate loans to eligible home buyers who meet income eligibility thresholds and don't have the typical 20 per cent deposit. We provide a Guarantee to the participating lender of up to 15 per cent of the value of a home loan under the First Home Guarantee or the Regional First Home Buyer Guarantee; and up to 18 per cent under the Family Home Guarantee. This enables them to buy a home without paying Lenders Mortgage Insurance. Eligibility criteria apply.
Housing Australia's Strategic objectives
To help deliver on its purpose, Housing Australia set five strategic objectives focused on building the business and continuing to embed best-practice systems, processes and governance practices into operations.
The strategic objectives are to:
facilitate the sustainable growth of the community housing sector across Australia
facilitate investment to increase the supply of social and affordable housing
strengthen stakeholder relationships that support better housing outcomes
deliver high-performance organisation practices and outcomes
establish a best-practice governance regime.
Housing Australia's strategic objectives reflect that the organisation is maturing and progressing from a build phase of operations to an innovation and growth phase. Housing Australia is well positioned for continued success as the business adapts to the needs of its clients and the changing operating environment.
Read more about our strategy in the latest Housing Australia Corporate Plan.
Housing Australia Timeline - our first 5 years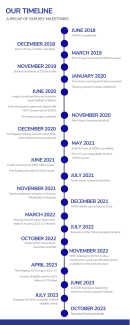 On 12 October 2023, the National Housing Finance and Investment Corporation (NHFIC) was renamed Housing Australia. All videos and images published prior to this date will refer to NHFIC. However, these references can now be read as references to Housing Australia.